Peugeot Announces New 2021 Brand Identity.
Peugeot removes lion's body from logo for first time in almost 50 years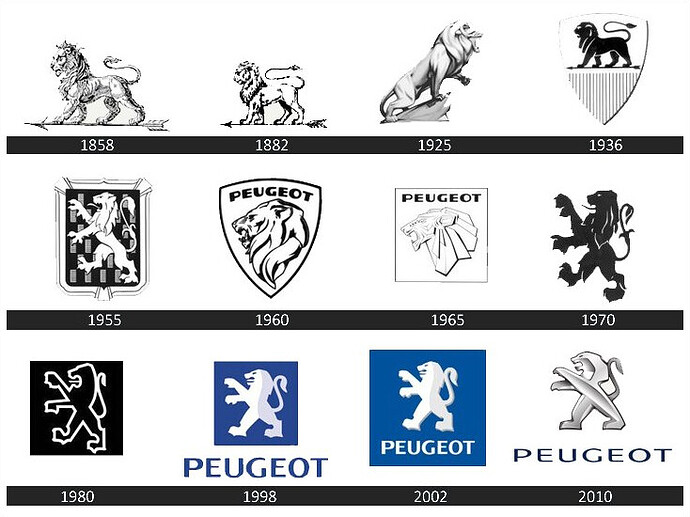 French car brand Peugeot has unveiled a redesigned logo, featuring a lion's head that recalls its 1960s emblem, as part of a rebrand to mark a new era of electric car manufacturing.
The carmaker, which describes itself as the world's oldest surviving automotive brand, updated its logo for the first time in 10 years. It is the 11th logo update in its history.
As with every version of its logo since 1847, the lion is central to the new design, which was created by Peugeot Design Lab.
However, unlike the previous logo, the design does not include the lion's body. Instead, it only includes a stylised head and mane placed under the car brand's name within a shield.
Peugeot's updated logo features a stylised lion's head
This design appears to be a redesign of the logo used throughout the 1960s, which also featured a lion's head within a shield.
This marks the first time since 1975 that the lion's body has been removed from Peugeot's logo. For the past 46 years, the logo has shown the lion standing on its two hind legs with its forelegs raised in the air.
Peugeot has used a logo featuring a standing lion since 1975
The brand introduced the redesigned logo to mark the company's transition towards producing electric cars.
According to Peugeot, it will offer an electrified variant of every one of its models by 2025.
The logo recalls Peugeot's 1960s logo "A new logo and brand identity are significant developments for any marque, let alone Peugeot, who has a history spanning more than 210 years," said Julie David, managing director of Peugeot UK. "The new logo reflects our changing model line-up and new philosophy around living in the moment, and we are very excited to showcase both the logo and the brand identity to our customers this year," she added.
The logo will be launched on the Peugeot 308
The logo will be used on all new Peugeot models, starting with the Peugeot 308, which will be launched later this year.
It has also been designed to be used across all physical locations and digital platforms. Later this year Peugeot will also launch a lifestyle collection, which will feature clothes, leather goods, electronic accessories and stationery.
Latest News
18-05-2021
There is no doubt that the Peugeot brand is really gathering pace in the UK.…
Read more >
18-05-2021
Tom has just started the 3rd and final year of his Light Vehicle Servicing &…
Read more >
28-04-2021
Transition to zero carbon emissions with Peugeot electric cars. Our range…
Read more >